Office Hours
| | |
| --- | --- |
| Monday | 8:00am - 5:00pm |
| Tuesday | 9:00am - 5:00pm |
| Wednesday | 7:00am - 7:00pm |
| Thursday | 7:00am - 5:00pm |
| Friday | 7:00am - 4:00pm |
| Saturday | CLOSED |
| Sunday | CLOSED |
Optometric Physicians NW
2222 James Street Suite A
Bellingham, Washington 98225
Phone: (360) 676-4030
Fax: (360) 676-8719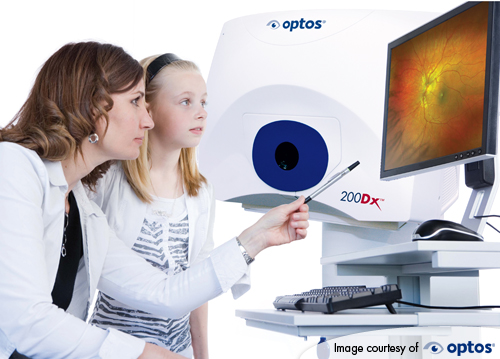 No Dilation Eye Exams Now Available
Do you LOVE when your eyes are dilated and your whole day is difficult and blurry?
Neither do we.
We are proud to introduce the latest cutting-edge technology in retinal imaging, the Optomap!
This new device takes a quick scan of your eye (we're talking speeds like the flash of a camera) delivering an image that sees FAR more of your retina than ever before without dilation!
NOW YOU CAN TAKE AN ACTIVE ROLE IN PRESERVING YOUR VALUABLE SENSE OF SIGHT
The Optomap makes it easier to accurately detect threatening conditions like glaucoma, macular degeneration, and diabetic retinopathy.
You'll see a picture of your retina immediately following the scan.
Great for Kids
The Optos can greatly ease the stress of an eye exam for young kids, and helps to shorten exam time. (While this doesn't skip child dilation, it does aid in clear diagnosis of brain/eye development)
TAKE ADVANTAGE of your end of the year health benefits!
Enjoy our NEW glasses pricing when you schedule an appointment in 2020.
Drs. Amy and Brad Bearden recently returned from Dallas where they were flown down for the launch of a revolutionary contact lens by Alcon. 10 years in the making, and a million man-hours in the development, this is an incredible advancement for contact lens wearers.
If you have ever asked or thought:
"Is there a way to make my lenses as comfortable at the end of the day as they were earlier in the day?"
or
"Why do my eyes look red after my lenses have been in for several hours, and how can I make that go away?"
or
"I had to give up wearing contacts, but wish there was a way to be able to wear lenses comfortably."
Then these new lenses may be the answer to those issues. Dailies Total 1 is the first water gradient lens ever developed. The central core of the lens is silicone hydrogel material (33% water) which delivers superior breathability. The outer portion of the lens is a hydrophilic (water loving) ultra-soft surface gel designed to provide exceptional comfort. This outer layer is 80% water which approaches 100% water at the surface of the lens. What this means to you is a lens that virtually melts into your natural tear film. 90% of patients report that they don't even feel the lens on their eye, and that even includes at the end of the day.
Technology is always developing, giving us better lenses with increased comfort, better vision, and healthier eyes. Often, a new lens will give some of the above benefits, but can't satisfy all of the things to make it ideal. This new lens seems to have tackled it all. Unsurpassed comfort, high oxygen transmissibilty for healthy lens wear, and extremely crisp optics for excellent vision.
Be sure to call our office and ask about these new lenses. Currently, they are only available in nearsighted corrections (up to a -10.00) without correction for astigmatism. If you would like to try them for yourself, set up an appointment and we will be happy to let you take them for a 5-10 day trial run. My entire staff was amazed at how comfortable this lens feels for the entire day.
We are extremely excited to be one of the first offices in the U.S. with access to this incredible contact lens!