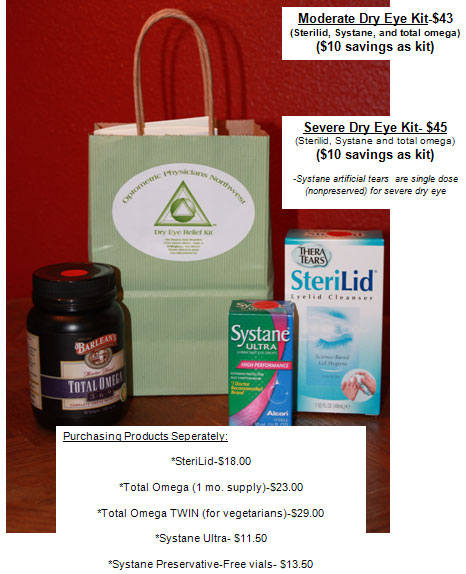 How to Use the Products
1. Artificial Tears-Systane: (Use 3-4 times/day or as directed by your doctor)
There are many formulations of artificial tears on the market today. Systane is one of the best for its superior lubrication. This drop should be used 3-4 times a day. It is intended to supplement your own natural tear production.
2. Sterilid: (Use Twice Daily or as directed by your doctor)
This product is used to treat eyelid inflammation. When the eyelids become inflamed, the oily glands around the lids become blocked and stop secreting oil into the tears, creating a thin, dilute, poor quality tear film. An inadequate tear film evaporates quickly, contributing to your dry eye.
Sterilid contains a naturally occurring liquid (Linalool) distilled from plant oils that is widely used in personal care products for its floral scent. Linalool has been formulated into Sterilid to create a "gentle-on-the-eye" eyelid cleanser yet, with its pH-matched-to-skin formula, helps to maintain the skin oils that have antibacterial properties and provide the skin with a natural defense.

3. Barleans omega-3 fatty acid supplement: (Take 3 softgels per day)
Omega 3's are an excellent supplement which will aid in increasing your own tear production. Fish and Flaxseed oil work together by decreasing inflammation, stimulating tear production, and providing a higher quality tear film by improving the oil layer of the tear film.
Omega 3's are available almost everywhere, but we highly recommend the brand Barleans for five reasons:
It is derived from fish, flax seed, and borage oil, providing you three valuable sources to help your dry eye.
It is ultra purified form of fish oil to minimize mercury and other toxicities.
The oils are extracted by cold press (a process that retains the benefits of the oils)
It is local (Ferndale, Washington)
It has a great, non-fishy taste, lemonade flavored.
Fish oil is not only a proven aid for dry eye, it has many other well documented systemic benefits:
A Healthy Heart:

Reduce risk of strokes & heart attacks
Lower blood pressure
Reduce risk of blood clots
Reduce triglycerides (blood fat levels)
Protect against atherosclerosis

A Healthy Brain:

Alleviate Attention Deficit/Hyperactivity Disorder (ADHD)
Alleviate Dyslexia
Alleviate Depression and aggression
Alleviate Memory problems, Alzheimers disease and dementia

A Healthy Body:

Reduce risk Rheumatoid arthritis
Reduce risk Inflammatory skin disorders
Reduce risk Inflammatory bowel diseases

A Lean Body:

Burn fat faster and reduce excess body fat at the fastest possible rate.

Reduction in the risk of inflammation reactions caused by:

Rheumatoid arthritis
Inflammatory bowel disease
Kidney disease
Psoriasis
Eczema
Crohn'sdisease
Ulcerative colitis
Asthma
Kidney failure that occurs with aging

Protection Against Degenerative Conditions

Eyesight degeneration
Alzheimer disease and age related memory loss
Kidney failure that occurs with aging